Never put off needed fixes just because you're worried about potential deck repair cost. Damaged decks are often unsafe and can start to slope over time. Also, issues like mold and rot can spread and get worse the longer they're ignored! Before long, your deck might even become unusable and an outright eyesore.
With this in mind, note some details about potential deck repair costs for your property. However, remember that these are just averages and "ballpark" figures. A deck repair contractor near you can offer an exact quote for your deck's needed fixes.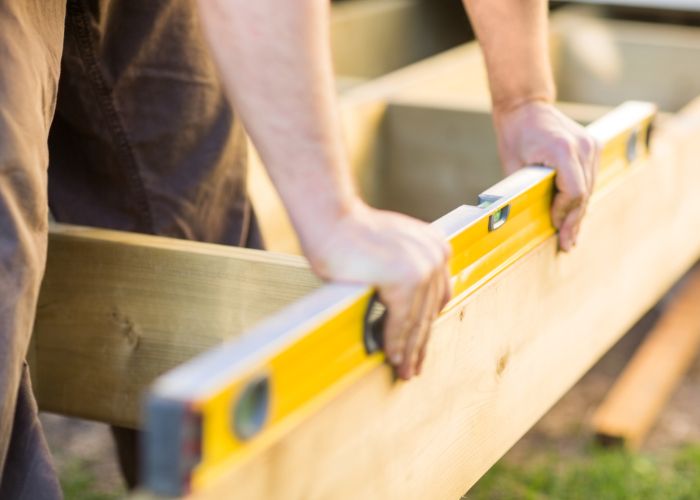 How Much Should It Cost to Repair a Deck?
Deck repair costs average between $250 and $1200, although some might run as high as $3,000 or more, depending on the extent of the damage. Most homeowners can expect to pay about $500 to $750 for standard deck repair. To better understand these costs, let's break them down in more detail.
Deck size
Obviously, the deck size affects your expected repair costs. A larger deck means more time, repair materials, and labor. This is why many deck repair contractors charge by the square foot when quoting their prices!
Also, note that a contractor might charge extra for specialty features on a deck, not just their size. For example, if your deck wraps around a tree or hot tub, contractors might face challenges reaching those areas. In turn, they might add to their overall deck repair costs.
Deck materials
Your chosen deck material also affects repair costs. Pressure-treated pine is often the cheapest material used for decking. Consequently, repairs to pine decking are also typically cheaper than fixing bamboo, cedar, and other woods.
Additionally, the more materials used for replacement versus repair, the more expensive your costs. In some cases, a contractor cannot simply patch damaged wood with a new piece. He or she might need to replace posts, rails, and other details entirely. As a result, you'll face higher repair costs.
Permits
New deck construction almost always requires a permit, as decks connect to a house. In some cases, your contractor might also need to pull a permit for repairs. Your deck repair company will typically include these costs in your repair quote. In turn, more expensive permits mean higher repair costs!
Construction industry trends
Homeowners should remember that deck installation and repairs are part of the construction industry. As a result, trends in that industry affect your final costs. For instance, high demand for new homes and other projects can mean fewer available workers. Accordingly, your contractor might need to pay higher wages to attract workers, which means steeper costs for you!
Also, increased construction projects can mean higher prices for lumber and other materials and increased delivery charges. As with paying workers higher wages, increased supply costs can also mean steeper repair charges for homeowners.
Specialty treatments
Your deck repair technician might suggest a specialty treatment after repairs. These include pest control chemicals, sealants, waterproof coatings, and the like. Many such treatments keep your deck in good condition after repairs but will increase your costs.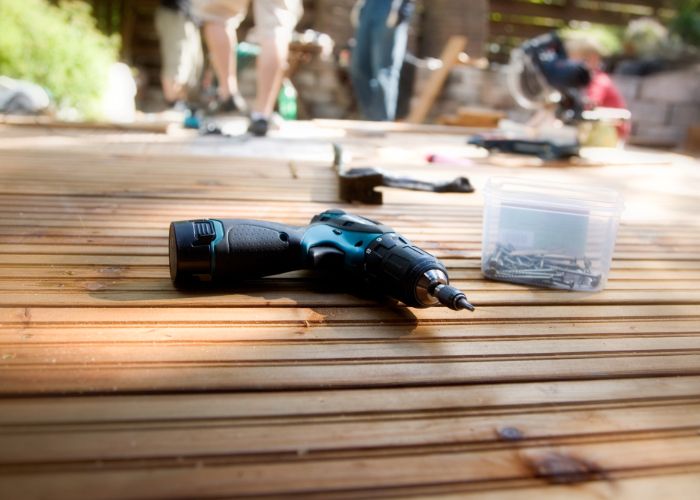 How Do You Know If Your Deck Needs Replacing?
Only a deck repair contractor can tell you if a deck is beyond fixing and needs replacing. They often take into consideration the extent of damage and the deck's age. In the meantime, note what else they might look for so you can evaluate your deck more readily:
A contractor might not be able to repair overly rotted or severely cracked boards. In turn, they might suggest replacing the entire deck.
Over time, wood might tend to warp, cup, or bow. Eventually, they become so warped that a repair contractor cannot level them properly. Consequently, he or she might suggest full deck replacement.
Termites and carpenter ants often damage wood from the inside. In most cases, a contractor can do very little to repair those boards so that they need replacing.
Rusted or damaged connectors might crack and splinter deck pieces. To ensure safe, secure connections, your contractor might need to replace them entirely.
Also, don't overlook the chance to have a new deck installed if the old one isn't right for your needs! Since you need to pay for repairs anyway, why not consider investing a few more dollars into a new deck? You might be surprised at the benefits for your property.
For instance, a larger deck accommodates more visitors, while a smaller deck might fit your space better. A different material might also mean less wear and tear or needed cleaning over the years. You might also better appreciate an elevated deck or one with built-in seating and other details.
Is It Cheaper to Repair or Replace a Deck?
There is no "one size fits all" answer about deck repair versus replacement costs. A homeowner would need to ask their contractor for quotes on both projects. You can then see which is more affordable and a better choice.
However, note that price isn't the only consideration to keep in mind when making your decision. An entirely new deck can mean added space, as said, and a fresh look to your yard. Also, consider if a different deck design might suit you better. For instance, if you struggle with stairs, a deck on grade or along the soil can be more comfortable than a raised deck.
Lastly, remember that decks often increase property values and make homes more appealing to buyers. In turn, you might invest in a new deck if you might sell your house sometime soon. That new deck can mean a higher selling price while enticing more buyers to tour your home. A real estate agent can advise in greater detail about how a deck might affect your property values.
RI Deck & Patio Builders is happy to help explain about expected deck repair costs. Hopefully, you found this post helpful. If so, check out our other blogs for even more tips and advice. Also, call our deck repair contractors when it's time for expert services. We'll start your project with a FREE price estimate and detailed quote. To find out more, contact our crew today.