Deck installation in RI is a great choice for any family! A deck means a place to relax and entertain and enjoy the weather. Additionally, more people work from home today than ever before. In turn, a deck can mean added space for working or needed privacy from other family members.
Moreover, a deck can even increase property values. Potential buyers appreciate outdoor spaces, so they often pay more for homes with a deck. However, you might wonder about a deck installation cost for your property. Check out some details about decks and their costs overall so you know what to expect for your home.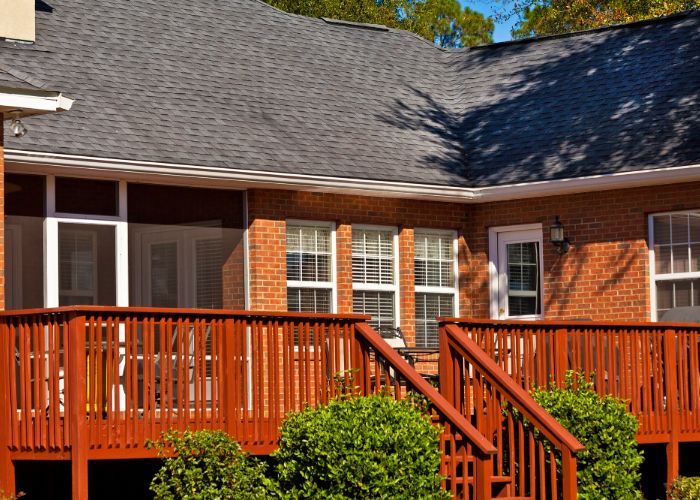 Rhode Island Deck Installation Costs, on Average
In short, the average cost for deck installation in Rhode Island falls between $4,000 and just over $11,000. Most homeowners can expect to pay around $7000 for their deck. However, this price varies greatly for every property! Consider what affects this cost so you can choose the right deck design based on your needs and budget.
Labor costs might take up about 70% of your deck budget. However, if you choose a deck kit or other simple design, you can save hundreds of dollars on labor alone.
Deck material costs vary greatly. Pressure-treated lumber might cost around $3.50 per square foot while cedar usually runs about $5 per square foot. Bamboo might cost $10 per square foot while redwood often reaches over $17 per square foot.
Your deck's size obviously affects its cost. Not only do larger decks mean more materials but your contractor needs to sink more posts as well.
Specialty designs also add to your costs. For example, if you want the deck to wrap around a nearby tree, this adds to its cost.
Adding details to your deck also means more expense! These can include storage benches, unique railings, added support for a hot tub, and so on.
Some contractors might include sealing in their installation costs. However, specialty paints or stains can also mean paying a few hundred dollars more.
How to Save on Your Expected Deck Installation Costs
If a deck installation sounds out of your budget, you might adjust a few of your choices. This includes its overall size and material. Also, note that floating decks are typically more expensive than those sitting on grade. You might also forego some of those fancy details you were planning as well!
On the other hand, not every cost-cutting decision is a wise one when it comes to deck installation. For example, carefully consider your inclination to build a deck yourself. Trying to cut material to size without heavy-duty saws can be extremely difficult. Additionally, securing deck posts is also more difficult than homeowners might realize.
Moreover, most areas require a permit for a deck installation since it attaches to a home. Permits also mean inspections, so the city can ensure a deck that's safe for use! Cities often require and check details like railings, certain step sizes, and so on. Without permits and passed inspections, you might face added costs and stop-work orders.
Above all, a professional ensures a safe deck that lasts for years! Even if it means spending more, your safety and your family's safety are vital. A quality installation can also mean fewer repair and replacement costs over the years. For all these reasons and more, reconsider DIY deck installation for your home.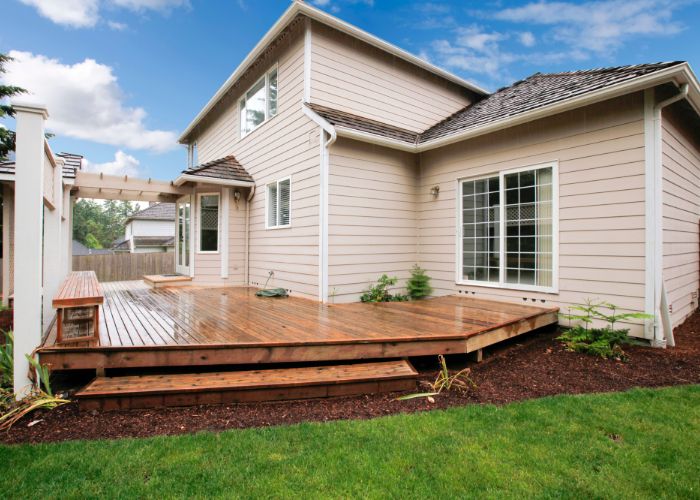 Is It Time for Deck Installation in Rhode Island?
Deck installation is a great choice for many reasons, as said. They increase your living and entertaining space while needing very little maintenance over the years. Additionally, decks offer a secure space for furniture, grills, and other items you don't want to put on wobbly pavers!
Moreover, a homeowner can paint or stain a deck over the years. In turn, you can freshen its appearance as needed. You can also add to a deck or otherwise refabricate it when necessary. Lastly, not that decks increase property values, as said.
If your home currently has a deck, note if it's time for a replacement. Rotted wood creates a safety hazard underfoot and along railings. Also, a larger deck can mean more room for entertaining or accommodating the entire family. A new deck can also mean a more attractive space you'll love using every day!
RI Deck & Patio Builders is happy to provide these details about the cost to install a deck in RI. Hopefully we've given you lots to think about! If you're ready for a stunning space outside your home, call our Rhode Island deck installation contractors. We'll start you off with a FREE estimate. To find out more, contact us today.