Paver patios in RI are an excellent investment for any home. Patios offer room for dining, entertaining, and relaxing. They can also mean added privacy when various family members work from home. If there are too many people in the house at once, one of you can use the patio as a workspace!
You might wonder if pavers are the best choice since you have so many options for patio materials. While there is no right or wrong patio flooring choice, check out why many people love pavers. Then, you'll know what to discuss with a deck builder in RI regarding your property's outdoor space.
5 Reasons to Choose Paver Patios in RI
Consider all these factors when deciding on a patio material for your home. You know you'll love your new paver patio in RI for years to come!
1. Variety
You'll probably find more options when shopping for pavers than any other material. Pavers come in various shapes, sizes, textures, and color tones. Consequently, you'll easily find something that complements your property perfectly when you choose pavers.
2. Durability
Natural stone or stamped concrete pavers offer excellent durability. Most last for years before they need patching or other fixes. Also, wide paver varieties only need annual cleaning and sealing to stay in good shape and retain their color.
3. Easy repairs
Most homeowners can patch paver cracks themselves with store-bought materials. Also, you can replace one severely damaged paver relatively easily. This can mean fewer professional repair costs over the years. Additionally, replacing damaged pavers means faster repairs than waiting for a contractor.
4. Affordability
Pavers are typically far more affordable than natural stone, offering a stunning aesthetic. This is vital for anyone on a budget or with a large space to fill! Choosing pavers can also mean enjoying a large patio to accommodate an outdoor kitchen or oversized furniture.
5. Excellent traction
When choosing a patio flooring material, you'll want excellent traction. This is especially true for properties with pools, children, and pets or if you're planning an outdoor kitchen. Slick surfaces underfoot in these situations can mean serious injury.
On the other hand, paver pits and pores provide a rough surface with lots of traction. Choosing pavers can mean fewer slip and fall injuries and a safer space overall.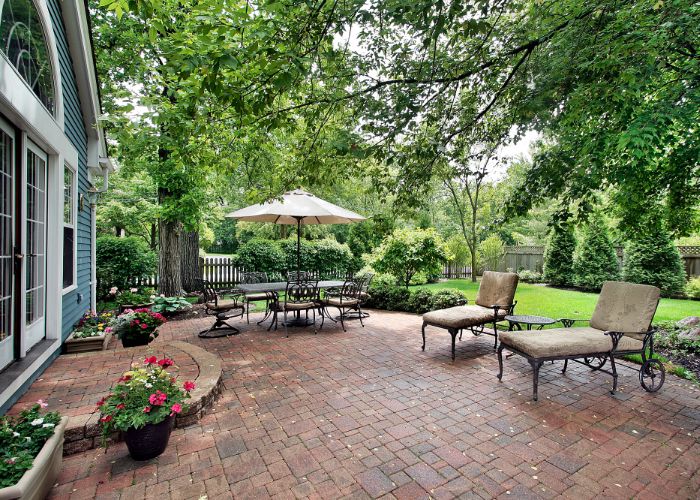 Disadvantages of Using Pavers
While pavers are an excellent choice, they're not necessarily right for every property. One disadvantage to choosing pavers is that they might take longer to install than poured concrete or other options. While they're typically cheaper than stone, they're not always the most affordable option.
Also, weeds might tend to grow between pavers over the years. However, regular sealing helps discourage weed growth. You can also apply a paver mortar between each piece, keeping weeds at bay.
Lastly, note that you can't change the appearance of pavers other than cleaning and sealing them. On the other hand, you can repaint or stain wood. Choosing a wood deck allows you to update its look over the years if needed.
What's the Difference Between a Deck and a Patio?
Both decks and patios provide an excellent spot for entertaining or just enjoying your morning coffee. Also, both ensure a stable and clean surface for patio furniture, fire features, and the like. So, how do you choose between the two?
First, note that some homeowners might prefer an elevated deck to a patio on the ground. Second, wood decks offer a more rustic look, and you can usually paint the wood over the years, as said. You can then update its appearance or opt for a new look over time.
On the other hand, contractors can install pavers around trees and other obstructions more easily. They also might find it easier to install pavers around pool edges. Consequently, pavers are excellent for oddly shaped spaces or for creating a unique look on your property.
RI Deck & Patio Builders is happy to bring you this information about paver patios in RI. Hopefully, you found it useful! If so, be sure to check out our other posts. Also, if you're in the state, call our Rhode Island deck installation contractors. We offer FREE quotes for all the deck and patio installations you're considering. We also carry high-quality materials designed for durability and guarantee every installation to last. Call us today to find out more or get your property started with a no-cost price quote.